The producers of orange juices do not mislead the consumers
07/09/2003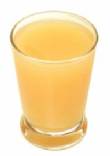 The Czech Agriculture and Food Inspection Authority has started complex inspection of authenticity of fruit juices first of all with respect to protect interests of consumers. It flowed from the screening in previous years that producers and importers relatively often put into circulation products contained lower part of fruit or they manufactured "single kind of fruit" juices with addition of another kind of fruit or eventually from so called "pulp-wash" or with addition of sugar. All these practices meant deception of consumers.
It showed from results performed orange juices inspection that producers (and also importers) put into circulation juices that correspond to legal requirements nowadays. It was taken 26 samples of various orange juices (18 Czech juices, 8 import juices) and only one sample of juice was not complying. This kind of drink is not in circulation nowadays yet. Formerly problematic juices sold under private trademarks of shopping chains corresponded to requirements, too (8 samples).
The results showed that self-control system of the producers of fruit juices is really functional. This system was launched by regional association SGF on 1 January 2003 to prevent unfair competition and unequal conditions in market.
CAFIA is going to go on this complex inspection continuously.